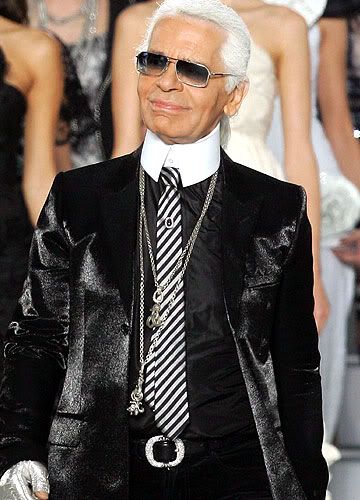 This weeks topic is my favorite designer. I know that my answer is probably so cliche and I bet so many people have picked this designer but I will have to say Karl Lagerfeld. I mostly enjoy his collaboration with Chanel which is why I say it might be somewhat hackneyed for me pick him as my favorite designer. Chanel is one of the most popular brands in the world. Imitation Chanel, Gucci, Fendi and Louis Vuitton is found everywhere, which in a way, a least to me, makes it less exclusive and too popular to be special. I would have liked to pick someone like the late Yves Saint Laurent or perhaps Carolina Herrera...someone less over popularized. However, though the Chanel brand and Karl Lagerfeld are in a way over done, I find Chanel to be very appealing.
UNC Charlotte, I was living with a girl who was planning to join a sorority. She made a list of everything she felt she needed to do in order to get into the sisterhood and posted it on her door. One of the items on the list appalled me. It read "Need to buy sun glasses with two C's". WTF. She didn't deserve a pair of Chanel sunglasses! She didn't even recognize the brand. She did not represent Chanel at all. Karl Lagerfeld is my favorite designer and Chanel is my favorite brand because its classy. Something my roommate knew nothing about.
Chanel was founded by Gabrielle "Coco" Chanel, who really deserves most if not all the credit for one of the greatest fashion empires this world has come to see. Gabrielle was immensely innovative. She popularized the everlasting little black dress and got rid of those uncomfortable corsets that dominated early women's fashion. Her designs are a mix of luxury and simplicity. I love the sophistication that Gabrielle incorporated in her clothes. She kept designing until her death in 1971. German designer, Karl Lagerfeld took over in 1983.
I love Lagerfeld because he has kept Chanel's integrity and elegance. I respect Lagerfeld because though his designs are classy, he is not afraid to take chances and be risque. His versatility is wonderful. He can design extravagant couture and still be able to create wearable pieces that can be found off the runway. Not only has Lagerfeld designed for Chanel but he also designed for Chloe and Fendi. He even designed for H&M, a lower-end brand, sort of like, Forever 21.(I LOVE FOREVER 21!!!) Only two days after H&M received Lagerfelds clothes, everything was nearly sold out. Lagerfeld has impeccable taste and I hope to one day own a Chanel design not found on Canal Street.